Athabasca Basin, Saskatchewan, Canada

Western Athabasca Basin, Saskatchewan, Canada
Area Market Caps:
NexGen Energy - $2.8B CDN>
Orano (Areva) - $1.99B USD
Cameco - $10.8BB CDN
Fission - $524M CDN
Denison - $1.35B CDN
UEX Corp - $225M CDN
Skyharbour Resources - $71M CDN
Purepoint Uranium - $40M CDN
Fission 3.0 - $30M CDN
Canalaska - $47M CDN
Azincourt Energy - $30M CDN
*As of Oct 7, 2021

EAST PRESTON PROJECT
Azincourt controls a >70% interest the 25,000-hectare eastern portion of the Preston project
The Preston Project is one of the largest tenure land positions in the Paterson Lake region
Strategically located near NexGen Energy Ltd's high-grade Arrow deposit, Fission Uranium Corp's Triple R deposit & AREVA/Cameco/Purepoint's joint venture (Spitfire)
Orano Canada (Areva) optioned 49,635 hectares of the Preston Project for up to $7.3 million in exploration expenditures
Over CDN$3 million in exploration expenditures on the East Preston Project over the past three years
Multiple high-priority drill targets identified within multiple prospective exploration corridors delineated through recent geophysics and ground evaluation

Geophysical Survey Results - Airborne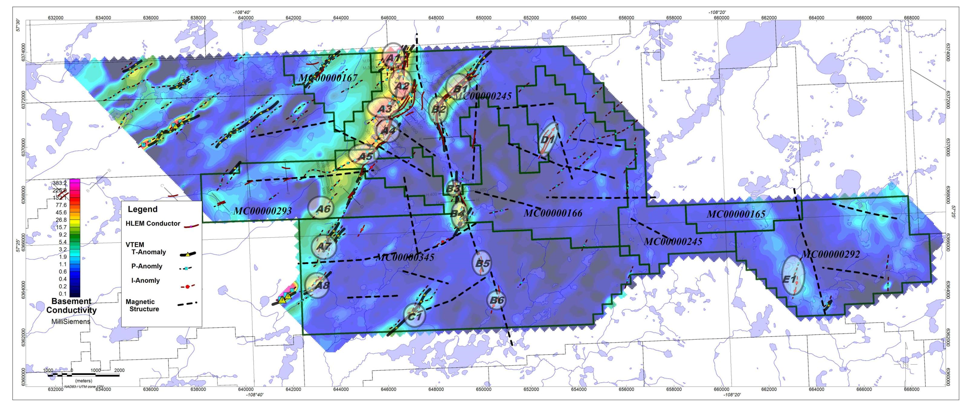 Airborne EM geophysical surveys identified several conductive corridors and "bullseye" targets on the property.
Uranium deposits are often associated close to basement conductive trends and these therefore represent a first order criterion for discovery.
First priority targets are the A-G Trend (A on figure above) and the K-H-Q Trend (B and C on the figure above)

Geophysical Survey Results – Ground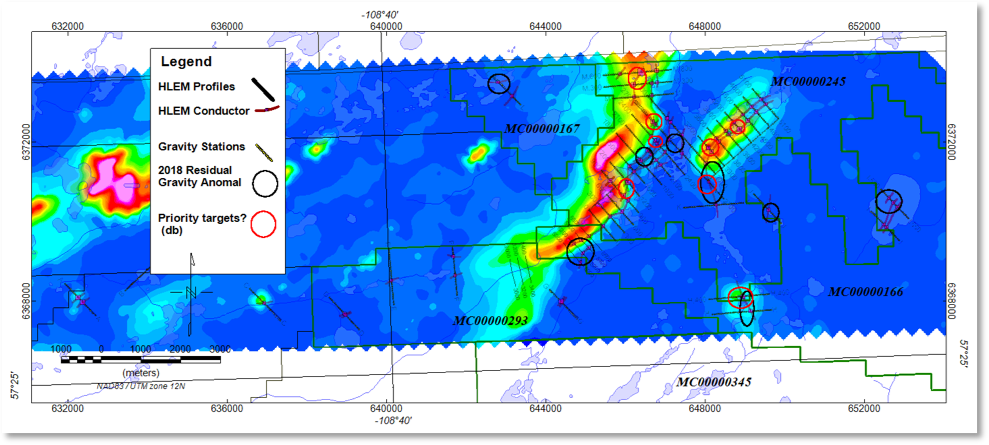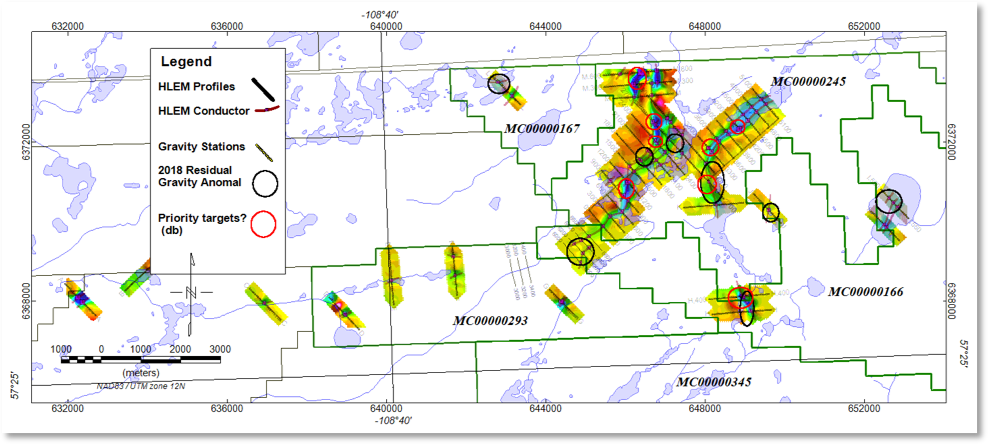 Between 2017 and 2021, numerous, high-quality drill targets were generated through HLEM and Gravity geophysical surveys over the identified conductive corridors.
Uranium deposits are often associated close to basement conductive trends and represent a first order criterion for discovery
The ground geophysical programs confirmed the interpretation of the airborne data and have yielded drill targets within these previously untested corridors.
This graphic shows multiple long linear conductors with flexural changes in orientation and offset breaks in the vicinity of interpreted fault lineaments – classic targets for basement-hosted unconformity uranium deposits
These are not just simple basement conductors but clearly upgraded/enhanced prospective targets due to the structural complexity
Abundant drill targets have been identified for continued drill testing

Previous Drill Program
Prior to the recent drill program, 24 holes had been drilled at East Preston. This limited drilling confirmed basement lithologies and graphitic structures intersected at East Preston are very similar and appear to be analogous to the Patterson Lake South-Arrow-Hook Lake/Spitfire uranium deposit host rocks and setting.
Trace element geochemistry shows anomalous results for basement-hosted unconformity uranium deposit pathfinders Ni, Co, Cu, Zn and As associated with graphitic schist intervals. Graphitic rocks hosting uranium mineralization are often associated with Ni-Co-As; Cu and Zn sulphides in anomalous, to substantial quantities.
Drilling has established the right basement unconformity uranium setting – rocks, structure and alteration. The recognition of what is believed to be a basement analogue to uranium deposit related REE mineralization and alteration suggests that mineralizing fluid systems were active on the project at the right time.

2021 Drill Program
2021 drill campaign was a planned 10-12 hole, up to 2500m, diamond drill program targeting the conductive corridor from the A-Zone through to the G-Zone (figure right).
Targeting was based on a compilation of results from the 2019 and 2020 drill programs, 2018 through 2020 ground-based EM and gravity surveys, and property wide VTEM and magnetic surveys.
Winter drill campaign was halted early after warm weather and early onset of spring break-up.
5 holes completed for 1195m.
The structures intersected show a complexity consistent with multiple intersecting faults.
Elevated uranium intersected in holes 3-5.

2021-2022 Winter Drill Program
2021-2022 drill program completed in March 2022
5,004 meters drilled in 19 holes
Largest drill program to date at East Preston
1,700 meters of alteration zones discovered
G-Zone
9 holes completed with extensive hydrothermal alteration and evidence of east-west cross-cutting structures intersected along the southern portion of the zone
Intervals of hydrothermal hematite alteration and extensive evidence for a steep east-west fault cross-cutting the main northeast trending structure and graphitic lithologies
K-Zone:
6 holes completed with extensive hydrothermal hematite alteration intersected, indicating this alteration zone is at least 1200 meters long
Extensive zones of hydrothermal hematite were intersected in all holes, with clay alteration also being present
A zone of localized elevated radioactivity more than 10 times background values was identified in EP0035 from both handheld scintillometers and a downhole gamma probe
H-Zone
The H-Zone covers a change in orientation of the structural and conductive trend from north south to southwest trending
3 holes completed on the north part of the trend, intersecting a thick zone of hydrothermal alteration and an intense graphitic fault zone
The structural setting for this area is expected to be complex, to facilitate the change in orientation of the conductive package
Whether this alteration zone is a continuation of that in K-Zone or constitutes a new alteration zone is yet to be determined
The discovery of these alteration zones, covering almost two kilometers of ground within these separate zones, is a very significant development.
5,000 meters of drilling was able to establish a minimum of 1,700 meters of alteration.
Alteration is associated with uranium deposition, acting as a halo proximal to deposition. The area in and around these zones is now a clear priority for continued drilling.