Significant Pegmatite Field Discovered
VANCOUVER, British Columbia, Sept. 26, 2023 (GLOBE NEWSWIRE) -- AZINCOURT ENERGY CORP. ("Azincourt" or the "Company") (TSX.V: AAZ, OTCQB: AZURF), is pleased to announce that it has completed its preliminary phase of mineral exploration at its Big Hill Lithium Project in southern Newfoundland, Canada. The initial program was conducted under the guidance and participation of its project partner, Atlantis Battery Metals Corp.

Exploration Program
The helicopter-assisted program was conducted over 21 days during a 29-day period by a team of five geologists and one prospector. Approximately 70 fresh, unaltered, bedrock samples were collected for lithium and associated element geochemistry in addition to basic petrography and petrology. The Burgeo Intrusive Suite in this area is cut by numerous crosscutting granite dikes and rare pegmatites. Granite and aplite dykes typically trend about east-west and are generally steeply oriented.
A significant pegmatite field was discovered in the southern edge of claim 035342M which spans for ~400m trending NNE. Coincidently, these pegmatites were identified around a government mapped mafic unit with an estimated age of Late Silurian. These mafic units could potentially create sufficient space for pegmatite intrusions to intrude the early Silurian to Early Devonian Burgeo granites.
There appears to be multiple distinct pegmatitic generations present on the property. One moderately dipping pegmatite type is characterized by green quartz resembling beryl. These dikes are generally thin (i.e., equal to or less than 30 cm). The other pegmatite dike generations range between 30-100 cm wide.
"The first round of exploration on the Big Hill Project was successful in identifying pegmatites on the property," said VP, Exploration Trevor Perkins. "The area is significantly underexplored and will require additional detailed work to examine the pegmatites identified, the extents of the systems, and determine if there are lithium bearing phases within the system. I was fortunate to spend a few days in the field with the team and recognize that we have barely scratched the surface on examining the property," continued Mr. Perkins.
The Big Hill Project
The Big Hill Lithium Project is a Lithium-Cesium-Tantalum (LCT) exploration property located in southwestern Newfoundland, Canada, along the south side of the Hermitage Flexure, approximately 5 km south of the Benton/Sokoman JV partnership discovery of the Kraken Lithium Pegmatite Field (1.04% Li2O over 15.23 metres, 8.4 metres of 0.95% Li2O, and 5.5 metres of 1.16% Li2O). The Benton/Sokoman JV partnership has also discovered the cesium-tantalum-rubidium-lithium Hydra Dyke which is located 12 km northeast of the Kraken Lithium Pegmatite Field. Channel samples returned results as high as 8.76% Cs2O, 0.41% Li2O, 0.025% Ta2O5, and 0.33% Rb2O over 1.20 metres.
The Big Hill Lithium property consists of three contiguous exploration licences consisting of 100 claims each for a total of 300 claims covering 7,500 hectares. The property lies adjacent to the Kraken Lithium and the Hydra cesium discoveries. The three licenses were map staked for potential spodumene-bearing pegmatites based on a compilation of geological map information in the area and on their proximity to the high-grade, spodumene-bearing, Kraken lithium discovery by the Sokoman Minerals – Benton Resources Alliance in 2021, and the subsequent discovery of high-grade cesium in pegmatite from the Hydra Zone.
The Kraken lithium discovery is located approximately 6.5 kilometers north of license 035340M. The high-grade cesium discovery is located approximately 15 kilometers to the west of license 035342M.
Each of the three licenses are underlain by the Burgeo granite and occur at the northwestern margin of the intrusive suite located close to the Kraken lithium discovery. The marginal area of these mixed intrusive phases is expected to have developed lithium and critical metal-bearing pegmatites.
The property encompasses a large tract of ground lying immediately south of the Hermitage Flexure in predominantly granite intrusive suites. The generalized bedrock geology is shown below in Figure 1. Mineralization in the area is characterized by W, Mo, Pb, F, Zn, Cu, Au, Ag, Sn, Ba, Bi, and U mineralization.
The Big Hill claims are found dominantly within the Burgeo Intrusive Suite. The Burgeo intrusive suite is a polyphase intrusive body of batholithic proportions composed of a continuum of compositions, from gabbro through tonalite and granodiorite to granite. The most observed lithology in the field were granites and minor felsic and mafic dikes.
Several hundred Remote Sensing and LiDAR targets in Figure 2 were examined during this exploration program. Targets ranged up to approximately 100 metres in length and several of them occur only as point sources (Figure 2).
Additional Exploration Plans
Additional exploration is under consideration, potentially split into two phases:
Phase I
Helicopter-assisted prospecting, geological mapping, and geochemical sampling.
Preliminary geochemistry survey for LCT pegmatite lithium path-finder elements using a portable XRF unit to help minimize the potentially large number of samples.
MMI geochemistry.
Soil geochemistry.
A glacial till survey to concentrate spodumene from tills.

Phase II (based on results from Phase I)
High-resolution geophysical survey that may in part include, EM/Mag, radiometric, and lidar, surveys.
A high-resolution drone survey should be carried out over targeted pegmatite areas to obtain low-altitude, high-resolution photography to assist more rapid ground mapping.
Selected trenching should be considered in areas where overburden is thin, and pegmatites are shown to be covered.
An initial 1,500 metres diamond drilling program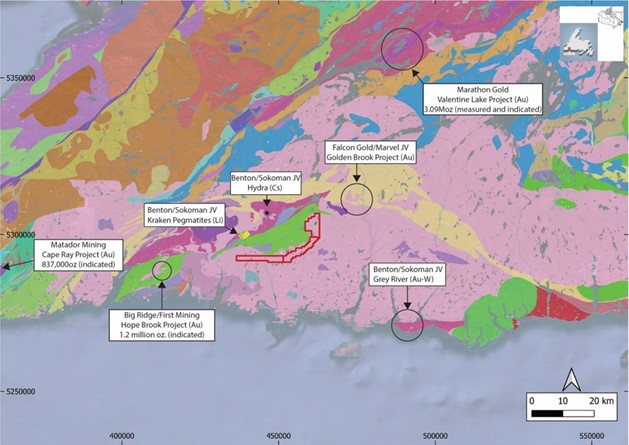 Figure 1: Location of the Big Hill Lithium Project showing other significant mineralization, Southern Newfoundland, Canada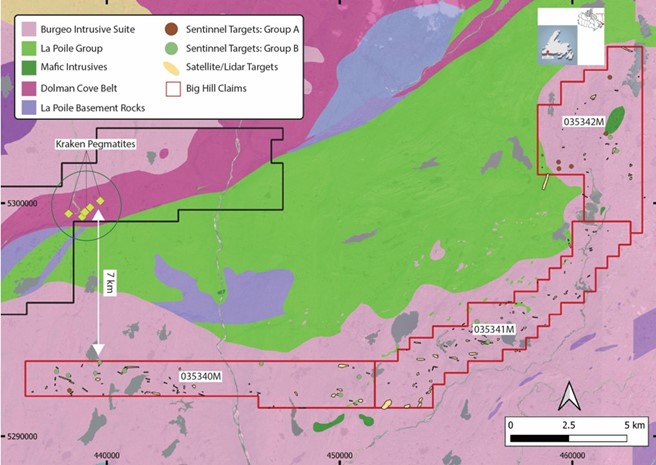 Figure 2: Big Hill property showing the location of the Kraken lithium-bearing pegmatites with exploration targets.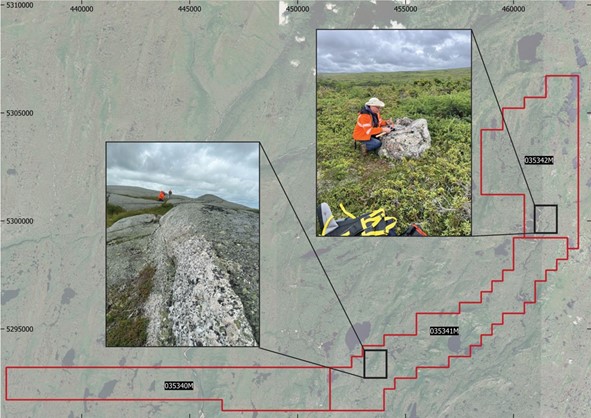 Figure 3: Two zones of pegmatite occurrences discovered during initial exploration program.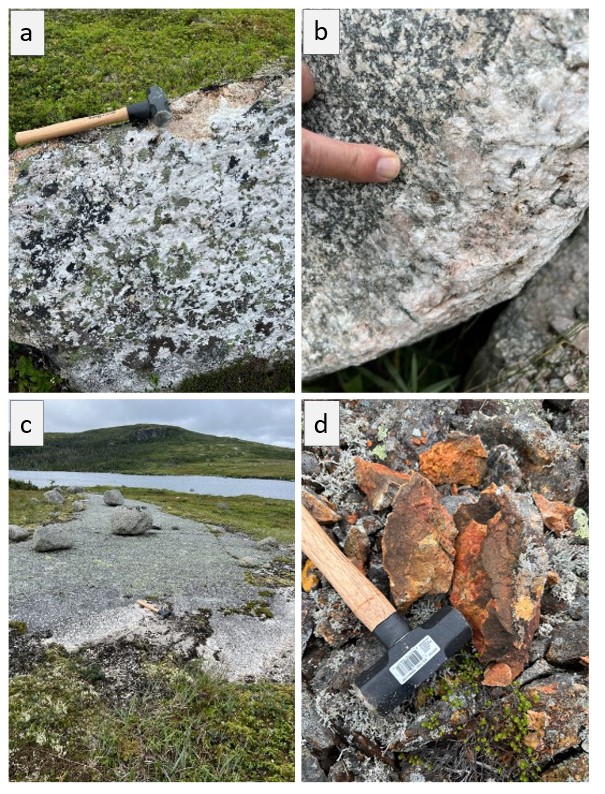 Figure 4: (a)- 1.5-2m wide pegmatite boulder, (b) contact between pegmatite dike and host granite, (c) false bleached granite caused by vegetation being removed by ice, snow, and wind.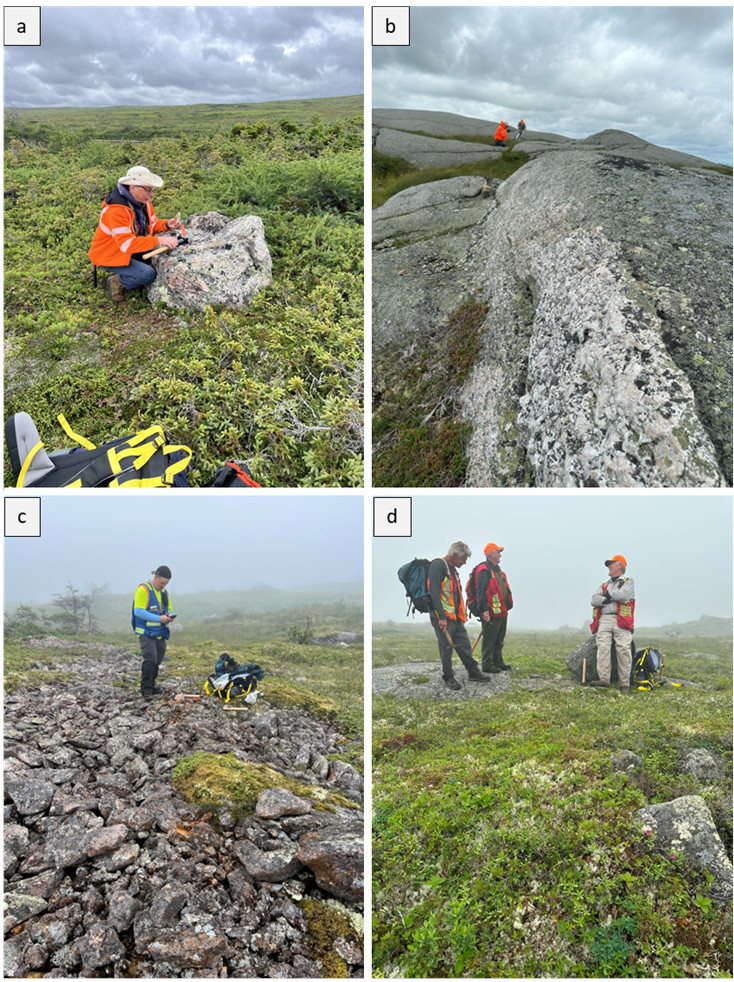 Figure 5: Geologists examining pegmatites and gossan zones. (a) Azincourt VP Exploration sampling pegmatite, (b) geologists examining long narrow pegmatite, (c) geologist on gossan zone in felsic dike, and (d) geologists and prospectors discussing local lithologies.
About Big Hill
Azincourt Energy Corp. has entered into a definitive property option agreement, dated 19th April, 2023, with Atlantis Battery Metals Corp., pursuant to which it has been granted the option to acquire up to a seventy-five percent interest in three exploration licenses covering 300 contiguous mineral claims located in the Province of Newfoundland and collectively known as the "Big Hill Lithium Project". Atlantis Battery Metals Corp will act as project operator during the option period.
The Big Hill Lithium Project is a 7,500-hectare Lithium-Cesium-Tantalum ("LCT") exploration property located in southwestern Newfoundland, Canada, along the south side of the Hermitage Flexure, approximately five kilometres south of the Benton/Sokoman JV partnership ("the Alliance") discovery of the Kraken Lithium Pegmatite Field (1.04% Li2O over 15.23m, 8.4m of 0.95% Li2O, and 5.5m of 1.16% Li2O*). The Benton/Sokoman JV partnership has also discovered the cesium-tantalum-rubidium-lithium Hydra Dyke which is located 12 kilometres northeast of the Kraken Lithium Pegmatite Field. Channel samples returned results as high as 8.76% Cs2O, 0.41% Li2O, 0.025% Ta2O5, and 0.33% Rb2O over 1.20m*.
At the Big Hill Lithium Project numerous granite dykes can be seen cutting the Burgeo granite. Coarse-grained pegmatite dykes greater than 2 meters wide and 20 meters long occur south of the property and are anticipated to be present on the Big Hill exploration licenses.
* Sokoman Minerals Corp., news release March 28, 2023
Qualified Persons
The technical information in this news release has been prepared in accordance with the Canadian regulatory requirements set out in National Instrument 43-101 and reviewed on behalf of the company by C. Trevor Perkins, P.Geo., Vice President, Exploration of Azincourt Energy, and Paul K. Smith, P.Geo. Atlantis Battery Metals, both Qualified Persons as defined by National Instrument 43-101.  
About Azincourt Energy Corp.
Azincourt is a Canadian-based resource company specializing in the strategic acquisition, exploration, and development of alternative energy/fuel projects, including uranium, lithium, and other critical clean energy elements. The Company is currently active at its joint venture East Preston uranium project located in the Athabasca Basin, Saskatchewan, and the Big Hill lithium project, located in southwestern Newfoundland.
ON BEHALF OF THE BOARD OF AZINCOURT ENERGY CORP.
"Alex Klenman"
Alex Klenman, President & CEO
Neither the TSX Venture Exchange nor its regulation services provider (as that term is defined in the policies of the TSX Venture Exchange) accepts responsibility for the adequacy or accuracy of this release.
This press release includes "forward-looking statements", including forecasts, estimates, expectations and objectives for future operations that are subject to a number of assumptions, risks and uncertainties, many of which are beyond the control of Azincourt. Investors are cautioned that any such statements are not guarantees of future performance and that actual results or developments may differ materially from those projected in the forward-looking statements. Such forward-looking information represents management's best judgment based on information currently available. No forward-looking statement can be guaranteed, and actual future results may vary materially.
For further information please contact:
Alex Klenman, President & CEO
Tel: 604-638-8063
This email address is being protected from spambots. You need JavaScript enabled to view it.
Azincourt Energy Corp.
1430 – 800 West Pender Street
Vancouver, BC V6C 2V6
www.azincourtenergy.com
Photos accompanying this announcement are available at
https://www.globenewswire.com/NewsRoom/AttachmentNg/1eb40935-6096-4801-b8de-625ed92a6103
https://www.globenewswire.com/NewsRoom/AttachmentNg/73b2d2af-0d83-447b-afb5-607e4b996d11
https://www.globenewswire.com/NewsRoom/AttachmentNg/524bc4a5-dbfc-439f-ae18-e55de49f9974
https://www.globenewswire.com/NewsRoom/AttachmentNg/a9871df7-b749-4261-92e7-3070a20b2121
https://www.globenewswire.com/NewsRoom/AttachmentNg/077e99ad-ffe1-4c00-a143-316bbf6d425f