Saskatoon, SK, January 16, 2014 – AZINCOURT URANIUM INC. ("Azincourt" or "the Company"; TSXV: AAZ) a Saskatoon based uranium exploration and development company, announces further to its news release of November 22, 2013, that it has completed the acquisition of 100% of the issued shares of Minergia S.A.C. ("Minergia") a private Peruvian company (the "Acquisition") from Vena Resources Inc. ("Vena") and Cameco Global Exploration Ltd. ("Cameco"). Minergia owns 100% of the rights and interests in the advanced stage Macusani and early stage Muñani uranium exploration projects in the Macusani district of south-eastern Peru covering a combined area of 14,700 hectares.
Acquisition Summary
•Azincourt has purchased 100% of Minergia from Cameco and Vena for total consideration of $2 million in cash and Azincourt shares.
•Over $12 million spent by Minergia on project exploration work between 2007-2011.
•Minergia has defined 18 million lbs U3O8 current mineral resources (measured and indicated) and 17 million lbs U3O8 inferred to September 2011.
•Exploration and processing work by Minergia and others in the Macusani region suggests potential for future low cost production.
•Additional targets exist on the projects and Azincourt is committed to advancing the resources, targets and to developing the Macusani region.
•Vena's Chairman and CEO, Juan Vegarra has joined Azincourt board as an independent director.
Macusani Project Highlights
•Advanced-stage 4,900 hectare project
•October 2011 NI 43-101 compliant report calculated* in-place U3O8 resources of: ◦5.7 million pounds in the measured category
◦12.5 million pounds indicated
◦17.4 million pounds inferred
•$12 million of prior exploration work
*Cut-off of 90.72 ppm (0.18 pounds/ton)
Muñani Project Highlights
•Early-stage 9,600 hectare project.
•Uranium mineralization identified in both sandstone and intermediate volcanic rock outcrops.
•Detailed airborne surveys and ground prospecting complete.
•Initial drill targets already established and prioritized.
Ted O'Connor, the Company's President and CEO, stated "Azincourt is excited to start 2014 with such a strong acquisition in this emerging uranium district. The uranium demand landscape continues to show signs of strengthening and Azincourt Uranium will be working with our team in Peru to move this development project forward at the right pace. This will ensure we are well placed to benefit from the anticipated demand-driven, uranium price increase."
Minergia Acquisition Details
Under the terms of the separate Share Purchase Agreements, the Company acquired each of Cameco's and Vena's 50% of the issued capital of Minergia in consideration of C$1,000,000 paid to each of Cameco and Vena, comprised of:
(i) the issue of 2,525,252 common shares; and
(ii) the payment of C$250,000 in cash.
The common shares issued to both Cameco and Vena are subject to a statutory hold until May 15, 2014. In addition, the common shares issued to Vena are subject to voluntary resale restrictions for a period of one year from the date of issuance, following which Vena's shares will become freely tradable as to 15% on the 12 month anniversary of their issuance and an additional 15% on each of the 15th, 18th and 21st and 24th month anniversaries of their issuance with the remaining 25% on the 27th month anniversary of the issuance date.
The Acquisition was at arm's length and no finder's fee was paid in relation to the Acquisition.
Effective as of the closing of the Acquisition, Mr. Juan Vegarra has joined the Company's board as an independent director and the Company has granted to Mr. Vegarra 250,000 incentive stock options. Each option is exercisable by the Mr. Vegarra to purchase one common share of the Company at a price of $0.27 per common share for a period of five years from the date of grant, in accordance with the Company's stock option plan and subject to TSX Venture Exchange acceptance.
Summary of the Macusani Project
The following is a summary of the Macusani Project is based upon a NI 43-101 compliant report authored by Henkle & Associates, entitled "Updated Technical Report of the Macusani Uranium Exploration Project", dated October 25, 2011 and addressed to Vena, which was filed in November 2011 under Vena's SEDAR profile.
The Macusani Project contains partially drill defined uranium deposits, and is comprised of nine non-contiguous mineral concessions covering a combined total area of 4,900 hectares. The Project is located approximately 650 kilometres southeast of Lima and about 230 kilometres by road north of the city of Juliaca. Access to the Project is from the Interoceanico Highway ("IH"), a tarred road that passes about 11 kilometres, directly to the east of Minergia's exploration camp. The Company's exploration camp is located in the pueblo of Isivilla, near the center of the Project area. Access from the IH, to the concessions is via a network of gravel roads, all of which are passable by a two-wheel drive vehicle.
Uranium in the Macusani Project Area is hosted in ignimbritic volcanic rhyolites, and is found in both fractures and as disseminated crystals within distinct mineralized zones. Mineralized zones are correlatable as distinct strata/elevation related zones, from drill hole to drill hole, much as a supergene blanket is in a copper deposit. To date, five separate prospects have been defined containing potentially economic mineralization in both Level A and Level B rock units within the Macusani Project area.
Little exploration activity had taken place on the Macusani Project prior to Vena's involvement in 2006. In 2006, Vena commenced scintillometer prospecting, radon and surface outcrop sampling over various IPEN ("Instituto Peruano de Energia Nuclear", an agency within the Peruvian Ministry of Energy and Mines) uranium showings.
Since 2006, 232 diamond drill holes (37,958 m) have been drilled by Minergia in the Macusani region. Based upon drilling and assaying to date, Henkle & Associates calculated the following resource estimate over the five drilled prospects on the Macusani Project: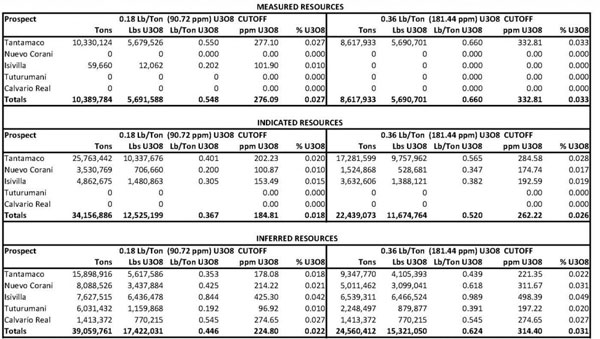 The Minergia projects have not seen active exploration drilling for the past two years and have been on care and maintenance due to depressed uranium market conditions. Azincourt is working with the existing Minergia team to develop a meaningful program and budget to restart active exploration work in Peru. The 2014 plans will include completing the necessary community agreements and all required permitting work to recommence diamond drilling of existing targets on the projects.
Qualified Person
The technical information in this news release has been prepared in accordance with the Canadian regulatory requirements set out in National Instrument 43-101 and reviewed on behalf of the company by Ted O'Connor, P.Geo. President and CEO of Azincourt Uranium Corp., a qualified person.
About Azincourt Uranium Inc.
Azincourt Uranium Inc. is a Canadian based resource company specializing in the strategic acquisition, exploration and development of uranium properties and is headquartered in Vancouver, British Columbia. Its common shares are listed on the TSX Venture Exchange under the symbol "AAZ".
ON BEHALF OF THE BOARD OF AZINCOURT URANIUM INC.
"Ted O'Connor"
Ted O'Connor, CEO and President
NEITHER THE TSX VENTURE EXCHANGE NOR ITS REGULATION SERVICES PROVIDER (AS THAT TERM IS DEFINED IN THE POLICIES OF THE TSX VENTURE EXCHANGE) ACCEPTS RESPONSIBILITY FOR THE ADEQUACY OR ACCURACY OF THIS RELEASE.
This press release includes "forward-looking statements", including forecasts, estimates, expectations and objectives for future operations that are subject to a number of assumptions, risks and uncertainties, many of which are beyond the control of Azincourt. Investors are cautioned that any such statements are not guarantees of future performance and that actual results or developments may differ materially from those projected in the forward-looking statements. Such forward-looking information represents management's best judgment based on information currently available. No forward-looking statement can be guaranteed and actual future results may vary materially.
For further information please contact:
Dwane Brosseau – Investor Relations
Direct: 604 662 4955
This email address is being protected from spambots. You need JavaScript enabled to view it.