VANCOUVER, British Columbia, Oct. 25, 2018 (GLOBE NEWSWIRE) -- Azincourt Energy Corp. ("Azincourt" or the "Company") (TSX-V: AAZ, OTC: AZURF) is pleased to announce that its joint venture partner, New Age Metals (TSX.V: NAM), has signed an Exploration Agreement with the Sagkeeng First Nation, the result of which provides a clear path to the Company's proposed drill programs at the Lithium One and Lithium Two projects.
Figure 1 – Project areas under new Exploration Agreement with the Sagkeeng Nation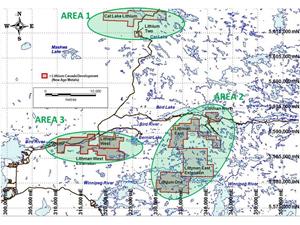 The agreement is designed to promote a cooperative and mutually respectful relationship and ensure that Sagkeeng has been properly consulted and accommodated regarding mineral exploration activities undertaken by in Sagkeeng's traditional territory.
"We're very pleased New Age Metals was able to reach an agreement with the Sagkeeng Nation and are grateful to Chief Henderson and the others who worked together to get this agreement in place," said Alex Klenman, President & CEO. "This is a major step toward developing our lithium projects and we're happy to be able to move forward in short order and complete our work commitments for year one of the joint venture agreement. We believe very strongly the projects have tremendous upside and are pleased to get the all important first phase drilling components completed," continued Mr. Klenman.
There is a total of eight projects totaling over 14,000 hectares in three distinct areas that comprise the AAZ-NAM joint venture lithium exploration and development agreement. Work programs this past summer and fall confirmed the presence of several hundred pegmatites across the various project locations. Sampling at the Lithium Two project, specifically the Eagle and FD5 Pegmatites, returned the presence of high-grade Li2O (Lithium Oxide). See Company news release of August 16, 2018 for more details.
Lithium Two Project
Channel samples obtained in the summer of 2018 at the Eagle Pegmatite returned values from 0.5 to 2.9% Li2O, with assays from the FD5 Pegmatite returning values from 0.9 to 3.3% Li2O.
Several known Spodumene bearing pegmatites are present, including the 1100-meter long Eagle Pegmatite which was drilled in 1947 and contains an historic (non-43-101 compliant) tonnage estimate of 544,460 tonnes grading 1.4% Li2O* to the 61-meter level and remains open to depth. The FD5 Pegmatite, located east of the Eagle Pegmatite, has never been drilled.
All samples obtained at Lithium Two his past summer returned lithium values, with 14 samples returning greater than 1000 ppm Li.
To check the purity of the spodumene at Lithium Two, a sample of spodumene blade obtained in the summer of 2018 was extracted from the FD5 Pegmatite. This sample yielded an assay value of 7.62% Li2O. A review of Spodumene Mineral Data indicates that spodumene can contain Li2O content from 3.73% to 8.03% Li2O. This would tend to indicate that the spodumene present in the pegmatite dykes on the project is high in purity.
Lithium One Project
Field work in 2016 sampled several historical pegmatites
Grab samples of the pegmatitic granites and pegmatites in the project area returned values from 0.00 to 4.33% Li2O with the high values obtained at the Silverleaf Pegmatite
Several of the other pegmatites in the project area yielded lithium values from lepidolite and spodumene
Approximately 40 pegmatites are estimated to exist north of Greer Lake, with around 100 to the south of the lake
The Silverleaf Pegmatite was excavated and mined for spodumene in the 1920's, with surface exposure of 80 m X 45 m
Azincourt Energy – New Age Metals Lithium Joint Venture
The pegmatites in this region of southeast Manitoba are described as being a part of the Winnipeg River Pegmatite Field. Several large lithium-bearing pegmatites exist in this region and exploration activity in the region is increasing. This pegmatite field is host to the world-class Tanco Pegmatite, which is a highly fractionated Lithium-Cesium-Tantalum (LCT Type) pegmatite and has been mined in varying capacities since 1969. The LCT-type pegmatites can contain large amounts of spodumene (one of the primary ores used in hard rock lithium extraction) and are a primary geological target in hard rock lithium exploration. They also can contain economic qualities of tantalum and cesium as well as other lithium bearing minerals such as mica. With eight projects totaling over 14,000 hectares the Azincourt-New Age JV is the largest claim holder for Lithium Projects in the Winnipeg River Pegmatite Field. For a map of the project locations please visit www.azincourtenergy.com.
* Note: The mineral reserve estimate cited above as part of the Lithium Two project is presented as a historical estimate which does not conform to current NI 43-101 standards. A qualified person has not done sufficient work to classify the historical estimate as current mineral resources or mineral reserves. Although the historical estimates are believed to be based on reasonable assumptions, they were calculated prior to the implementation of National Instrument 43-101 standards. The Company is not treating the historical estimate as current mineral resources or mineral reserves.
About Azincourt Energy Corp.
Azincourt Energy is a Canadian-based resource company specializing in the strategic acquisition, exploration and development of alternative energy/fuel projects, including uranium, lithium, and other critical clean energy elements. The Company is currently active at its joint venture East Preston and Patterson Lake North uranium projects in the Athabasca Basin, Saskatchewan, Canada, and its lithium exploration projects in the Winnipeg River Pegmatite Field, Manitoba, Canada.
ON BEHALF OF THE BOARD OF AZINCOURT ENERGY CORP.
"Alex Klenman"
Alex Klenman, President & CEO
Neither the TSX Venture Exchange nor its regulation services provider (as that term is defined in the policies of the TSX Venture Exchange) accepts responsibility for the adequacy or accuracy of this release.
This press release includes "forward-looking statements", including forecasts, estimates, expectations and objectives for future operations that are subject to a number of assumptions, risks and uncertainties, many of which are beyond the control of Azincourt. Investors are cautioned that any such statements are not guarantees of future performance and that actual results or developments may differ materially from those projected in the forward-looking statements. Such forward-looking information represents management's best judgment based on information currently available. No forward-looking statement can be guaranteed, and actual future results may vary materially.
For further information please contact:
Alex Klenman, President & CEO
Tel: 604-638-8063
This email address is being protected from spambots. You need JavaScript enabled to view it.
Azincourt Energy Corp.
1430 – 800 West Pender Street
Vancouver, BC V6C 2V6
www.azincourtenergy.com