Vancouver B.C., February 1, 2018 – AZINCOURT ENERGY CORP. ("Azincourt" or the "Company"; TSX.V: AAZ) is pleased to provide an update on it's upcoming exploration work programs with partner New Age Metals Inc. (TSX.V: NAM) at the five newly acquired lithium projects in the Winnipeg River Pegmatite Field, Manitoba, Canada.
The Winnipeg River Pegmatite Field is host to numerous lithium-rich pegmatites in addition to the world-class Tanco Pegmatite, a highly fractionated lithium-cesium-tantalum (LCT) type pegmatite that has been mined at the Tanco Mine since 1969 in varying capacities for spodumene (a major rock unit for lithium (Li)), tantalum (Ta), cesium (Cs), rubidium (Rb), and beryllium (Be) ores.
Exploration work is scheduled to begin in late March (or early April, depending on weather), with a field program that includes detailed mapping of known pegmatite outcroppings on the Lithium One and Lithium Two projects. This will be followed immediately by a comprehensive chip sampling program designed to prioritize targets for the initial drill programs anticipated at both properties during the months of May, June and July.
The Lithium Two project, adjacent to Quantum Minerals Corp Cat Lake Lithium Project (aka Irgon Lithium Mine), includes an historical estimate* from drilling in 1947 that defined 545,000 tonnes of 1.4% Li2O, drilled to a depth of 60 meters. Field work in 2016 confirmed that the Eagle and FD5 Pegmatites contained significant surface spodumene. The Eagle Pegmatite is approximately 1100 meters in length, up to 12 meters wide and open to depth.
12 samples collected in 2016 returned a range of 0.02% to 3.04% Li2O from the Eagle Pegmatite, and up to 2.08% Li2O from the FD5 Pegmatite. Select sampling will concentrate on the Eagle and FD5 pegmatites at Lithium Two, and on the Silverleaf Pegmatite at Lithium One, which returned values as high as 4.33% Li2O in the 2016 exploration program.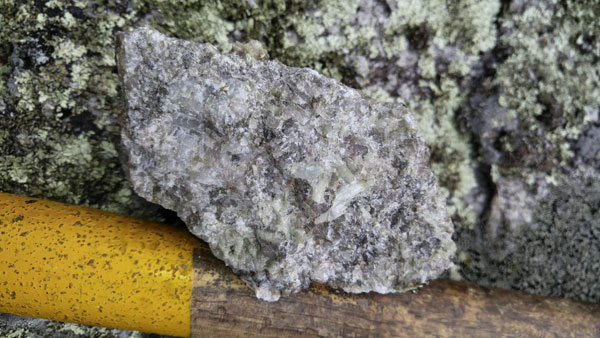 * Note: The mineral reserve estimate cited above as part of the Lithium Two project is presented as a historical estimate which does not conform to current NI43-101 standards. A qualified person has not done sufficient work to classify the historical estimate as current mineral resources or mineral reserves. Although the historical estimates are believed to be based on reasonable assumptions, they were calculated prior to the implementation of National Instrument 43-101 standards. These historical estimates therefore do not meet current standards as defined under sections 1.2 and 1.3 of NI 43-101; consequently, the issuer is not treating the historical estimate as current mineral resources or mineral reserves.
"We're happy to map out our plans and excited to move forward at the Manitoba properties," said Alex Klenman, President & CEO. "Carey and the New Age team have been providing some great intel on the projects and we intend to get right to work. We'll spend some time mapping and sampling the priority targets to ensure we are in the best position for success on the initial drill program," continued Mr. Klenman.
With the commencement of the Manitoba lithium work program the Company will have two active projects, with work ongoing at the East Preston uranium project in the Athabasca Basin, Saskatchewan. In addition, the Company continues to do due diligence on potential acquisitions of other clean energy, clean fuel exploration projects.
"As stated previously, we would like an active portfolio with multiple projects that expose the company to different sectors within the clean energy space," said Mr. Klenman. "We are and have been invested in uranium, and we've added lithium interests. We are not done building our project portfolio and will continue to evaluate opportunities here in the near term that add additional value," continued Mr. Klenman.
Company Hires Trapeze Capital for Market Making Services
The Company is also pleased to announce the retention of Trapeze Capital Corp. of Toronto, Canada to provide market-making services to the Company.
Under the terms of their agreement (the "Agreement"), Trapeze will receive cash compensation of $5,500 per month. Trapeze does not currently own any securities of Azincourt, however, Trapeze and its clients may acquire a direct interest in the securities of Azincourt. Azincourt and Trapeze are unrelated and unaffiliated entities. Trapeze is a member of the Investment Industry Regulatory Organization of Canada, a participating organization of the Toronto Stock Exchange and a member of TSX Venture Exchange. The capital and securities required for any trade undertaken by Trapeze as principal will be provided by Trapeze. The Agreement is for an initial term of 180 days, with automatic renewal terms unless terminated, and remains subject to the approval of the TSX Venture Exchange.
Option Grant
The Company also announces that it will grant 1,000,000 incentive share purchase options to certain consultants of the Company, subject to TSX Venture Exchange acceptance. Each option is exercisable to purchase one common share at a price of $0.20 for a period of 24 months in accordance with the Company's stock option plan.
The contents contained herein, which relates to Exploration Results or Mineral Resources, is based on information compiled, reviewed or prepared by Carey Galeschuk, Principal Consulting Geoscientist for New Age Metals. Mr. Galeschuk is a Qualified Person, as defined by National Instrument 43-101 and has reviewed and approved the technical content of this news release.
About Azincourt Energy Corp.
Azincourt Energy is a Canadian-based resource company specializing in the strategic acquisition, exploration and development of alternative energy/fuel properties, including uranium, lithium, cobalt and other elements.
ON BEHALF OF THE BOARD OF AZINCOURT ENERGY CORP.
"Alex Klenman"
Alex Klenman, President & CEO
Neither the TSX Venture Exchange nor its regulation services provider (as that term is defined in the policies of the TSX Venture Exchange) accepts responsibility for the adequacy or accuracy of this release.
This press release includes "forward-looking statements", including forecasts, estimates, expectations and objectives for future operations that are subject to a number of assumptions, risks and uncertainties, many of which are beyond the control of Azincourt. Investors are cautioned that any such statements are not guarantees of future performance and that actual results or developments may differ materially from those projected in the forward-looking statements. Such forward-looking information represents management's best judgment based on information currently available. No forward-looking statement can be guaranteed and actual future results may vary materially.
For further information please contact:
Alex Klenman, President & CEO
Tel: 604-638-8063
This email address is being protected from spambots. You need JavaScript enabled to view it.