Vancouver B.C., February 8, 2018 – AZINCOURT ENERGY CORP. ("Azincourt" or the "Company"; TSX.V: AAZ) is pleased to announce it has signed a non-binding letter of intent ("LOI") with BullRun Capital Inc., to acquire the BullRun Erythrite Project, a prospective Cobalt property located six kilometres northwest of the town of Cobalt, Ontario.
The BullRun Erythrite Project covers approximately 652 acres adjacent to Cruz Cobalt's Bucke Cobalt Project and Brixton Metals' Silver-Cobalt Project.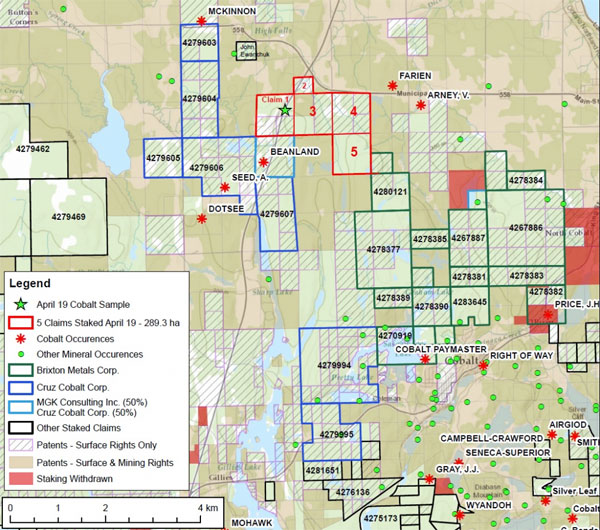 "We've been looking into adding a potential cobalt property as we grow our project portfolio, so we're pleased to move to LOI on this," said Alex Klenman, president and CEO. "We are going to immediately begin a comprehensive due diligence process to gain as much understanding as we can on the potential of the project, and we hope to progress to the definitive stage in due course. In addition, we are actively reviewing other potential projects that will continue to strengthen the Company in the growing clean energy space. We haven't filled our want list yet, so we remain very active on the acquisition front," continued Mr. Klenman.
In consideration for the acquisition of the project from Bullrun Capital, the Company has agreed to issue 1,000,000 common shares.
Completion of the transaction with BullRun Capital is subject to a number of conditions, including, but not limited to, completion of due diligence, negotiation of definitive documentation in respect of the transaction, and the receipt of any required regulatory approvals, including the approval of the TSX Venture Exchange. The transaction cannot be completed until these conditions are satisfied. Any securities issued in connection with the transaction will be subject to a four-month-and-one-day statutory hold period from the time of issuance.
About Azincourt Energy Corp.
Azincourt Energy is a Canadian-based resource company specializing in the strategic acquisition, exploration and development of alternative energy/fuel properties, including uranium, lithium, cobalt and other elements.
ON BEHALF OF THE BOARD OF AZINCOURT ENERGY CORP.
"Alex Klenman"
Alex Klenman, President & CEO
Neither the TSX Venture Exchange nor its regulation services provider (as that term is defined in the policies of the TSX Venture Exchange) accepts responsibility for the adequacy or accuracy of this release.
This press release includes "forward-looking statements", including forecasts, estimates, expectations and objectives for future operations that are subject to a number of assumptions, risks and uncertainties, many of which are beyond the control of Azincourt. Investors are cautioned that any such statements are not guarantees of future performance and that actual results or developments may differ materially from those projected in the forward-looking statements. Such forward-looking information represents management's best judgment based on information currently available. No forward-looking statement can be guaranteed, and actual future results may vary materially.
For further information please contact:
Alex Klenman, President & CEO
Tel: 604-638-8063
This email address is being protected from spambots. You need JavaScript enabled to view it.