Vancouver B.C., March 28, 2017 – AZINCOURT URANIUM INC. ("Azincourt" or the "Company"; TSXV: AAZ) has entered into an agreement with Skyharbour Resources Ltd and Clean Commodities Corp. (collectively the "Property Owners") whereby Azincourt may acquire an undivided seventy per cent (70%) interest in the Property Owners East Preston Project located in the highly prospective western Athabasca basin (the "East Preston Project").
East Preston Project highlights:
Azincourt may acquire a 70% interest the Eastern portion of the Preston Project consisting of approximately 25,329 contiguous hectares.
The Preston Project is one of the largest tenure land positions in the Paterson Lake region and currently consists of 121,148 hectares strategically located near NexGen Energy Ltd's high-grade Arrow deposit, Fission Uranium Corp's Triple R deposit and AREVA/Cameco/Purepoint's joint venture (Spitfire).
AREVA recently optioned 49,635 hectares of the Preston Project for up to $7.3 million in exploration expenditures (see Skyharbour News Release dated March 9, 2017).
Over CDN$2 million in exploration expenditures on the East Preston Project over the past three years.
Several high priority drill targets identified within multiple prospective exploration corridors delineated through recent geophysics and ground evaluation.
Paul Reynolds, CEO of Azincourt commented, "We are excited to option the East Preston uranium project. Azincourt now has two properties located in the western part of the Athabasca Basin, one of the most compelling high-grade uranium regions in the world. Given the historical work that was previously completed on this project, as well as it being adjacent to the Preston Project in which AREVA Resources Canada can earn up to 70% through $7.3 million in exploration we feel we have potential to extract significant value for our shareholders."
Proposed Acquisition of the East Preston Project
Under the terms of an option agreement (the "Option Agreement") entered into with the Property Owners, Azincourt has been granted the option to acquire a seventy per cent (70%) interest in the East Preston Project by incurring an aggregate of CDN$2,500,000 of staged expenditures and paying an aggregate of CDN$1,000,000 in staged cash payments as follows:
On execution of Option Agreement;$150,000;Nil
On or before March 27, 2018;$150,000;$250,000
On or before March 27, 2019;$300,000;$750,000
On or before March 27, 2020;$400,000;$1,500,000
TOTAL;$1,000,000;$2,500,000
Additionally Azincourt has agreed to issue to the Property Owners an aggregate of 4,500,000 common shares upon receipt of regulatory approval to the Option Agreement. These common shares will be subject to a restriction on resale for a period of approximately one year from their date of issuance.
There is an underlying 2% NSR on commercial production from the East Preston Project and AREVA Resources Canada will retain a Right of First Refusal on the any future proposed sale of East Preston.
The parties' obligations to close the Option Agreement are subject to the satisfaction of the usual conditions precedent including the receipt of all necessary approvals of the TSX Venture Exchange.
Azincourt has agreed, subject to TSX Venture Exchange acceptance, to the payment of a finder's fee to an arms length third party for introducing Azincourt to the Property Owner's.
About the East Preston Project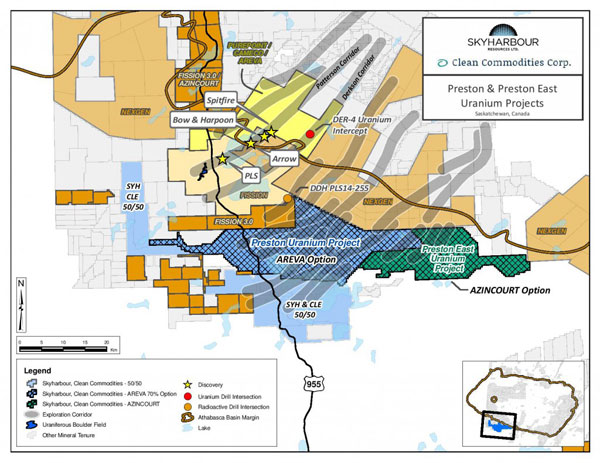 The significant potential of the western Athabasca Basin has been highlighted by recent discoveries in the area by NexGen Energy (Arrow), Fission Uranium (Triple R) and a joint venture consisting of Cameco Corp., AREVA Resources Canada Inc. and Purepoint Uranium Group Inc. (Spitfire). In excess of $4.7 million in expenditures on the Preston Project have been incurred to date, including over $2.0 million on the East Preston Project. Exploration on East Preston has consisted of ground gravity, airborne and ground electromagnetics, radon, soil, silt, biogeochem, lake sediment, and geological mapping surveys, as well as an exploratory drill program (discussed below). Several high priority drill target areas associated with multiple prospective exploration corridors (see above map) have been successfully delineated on the East Preston Project through this methodical, multi-phased exploration initiative, which has culminated in an extensive, proprietary geological database for the East Preston Project area.
In March 2014, Skyharbour and Clean Commodities commenced an inaugural diamond-drilling program on the East Preston Project. Three initial target areas, out of a growing target base were selected for drilling based on encouraging fieldwork results and coincident anomalies. This drill campaign represented the first modern-day drill exploration program on the East Preston Project and consisted of approximately 1,500 metres of drilling in seven holes. The majority of these holes intersected broad, hydrothermally altered and reactivated, structural zones with several of the holes returning elevated radioactivity and intersecting multiple graphitic units within sheared and altered basement lithologies. The Property Owner's technical team considered these findings in the early stages of the first drill program to be a significant breakthrough towards locating shallow uranium mineralization.
The Company will provide a detailed follow up news release summarizing the proposed work program on the East Preston Project once determined.
Qualified Person
The technical information in this news release has been prepared in accordance with the Canadian regulatory requirements set out in National Instrument 43- 101 and reviewed on behalf of the company by Ted O'Connor, P.Geo. a director of Azincourt Uranium Corp., as well as a qualified person.
About Azincourt Uranium Inc.
Azincourt Uranium Inc. is a Canadian based resource company specializing in the strategic acquisition, exploration and development of uranium properties based out of Vancouver, British Columbia. The Company's Patterson Lake North Property ("PLN"), also located in the western Athabasca Basin, lies adjacent and to the north of the Patterson Lake South property (Arrow deposit), owned by Fission Uranium Corp. The company owns a 10% working interest in PLN and Fission 3.0 owns a 90% interest. In addition, the Company is currently evaluating additional uranium properties to acquire or joint venture.
ON BEHALF OF THE BOARD OF AZINCOURT URANIUM INC.
"Paul Reynolds"
Paul Reynolds, President
Neither the TSX Venture Exchange nor its regulation services provider (as that term is defined in the policies of the TSX Venture Exchange) accepts responsibility for the adequacy or accuracy of this release.
This press release includes "forward-looking statements" that are subject to a number of assumptions, risks and uncertainties, many of which are beyond the control of Azincourt. Investors are cautioned that any such statements are not guarantees of future performance and that actual results or developments may differ materially from those projected in the forward-looking statements. Specifically, there is no assurance the Company will be able to exercise the option or acquire any interest in the East Preston Project.
For further information please contact:
Paul Reynolds
Tel: 604-638-8063
This email address is being protected from spambots. You need JavaScript enabled to view it.