Saskatoon, SK, January 20, 2015 – AZINCOURT URANIUM INC. ("Azincourt" or "the Company"; TSXV:AAZ), and its joint venture partner and operator, Fission 3.0 Corp ("Fission 3.0"; TSXV:FUU), are pleased to announce a $1.45M winter 2015 exploration program to comprise a 3,250m 7 hole drill program and 35.2 line-km small loop time domain electromagnetic (SMLTEM) ground geophysics at their PLN project in Canada's Athabasca Basin. The program follows a successful summer 2014 drill program, which identified and drill tested a mineralized corridor to approximately 700m in length. Of note, the drilling intersected anomalous uranium mineralization on the "A1" EM conductor in hole PLN14-019 and returned highly prospective results in holes PLN14-020 and PLN14-021. The tremendous potential of the area is highlighted by the recently reported results from Fission Uranium Corp's PLS property located immediately adjacent to the south of PLN with the announcement of the resource estimate of the large, shallow, high-grade Triple R deposit, which included 79.6M lbs of U3O8 indicated and 25.9M lbs U3O8 inferred (See Fission Uranium news release January 9, 2015). Tentative start to the winter program will be early February, pending successful financing.
Ted O'Connor, President and CEO of Azincourt, commented,
"The shallow basement uranium mineralization and positive results from the summer drilling combined with targets generated on the two new untested areas highlight PLN is an exciting project. The success and large resource identified by Fission Uranium at Paterson Lake South solidifies the area as one of the most compelling high-grade uranium regions in the world. Azincourt is committed to completing the Year 2 earn-in at PLN alongside our partner, Fission 3.0 and we are in the midst of financing efforts to fund the remaining $1.45 million required under the JV agreement, to earn 20% project interest in PLN."
Key Program Details (see Figure 1 – PLN 2015 Winter Work Location Map)
7 hole/3,250m of drilling

2 holes on "A1" EM Conductor in the SW area of property. Previous drilling on the A1 conductor returned results indicative of a uranium mineralized system. The two new holes will be located 50m and 150m north of hole PLN14-019 which intersected uranium mineralization of 397 ppm uranium over 0.5m within a broader 6.0m interval, targeting the A1 conductor.
2 holes will target the "N" EM conductors in previously untested north area of property. The "N" system consist of 3 parallel northwest – southeast trending basement EM conductors, interpreted to dip steeply to the west. Geophysics surveys have identified a strong resistivity anomaly associated with the conductors, possibly representing an area of alteration in bedrock. Uranium mineralization in the Athabasca Basin is often associated with large scale structural / alteration systems.
1 hole on the Hodge Lake target – a high priority 2014 winter target untested due to unfavorable weather conditions at time of program.
2 holes at Broach Lake target in the south-east area of property. EM conductors at Broach Lake trend in an East-North-East orientation, which is a similar trend to the EM conductors of the Patterson Lake Corridor to the south on Fission Uranium Corp's PLS property including the PL3-B conductor, which hosts the very large high-grade Triple R uranium deposit 9.5 km to the south-east.
Ground Geophysics

2 line-km of SMLTEM ground geophysics survey on two prospective EM conductors identified from previously-flown VTEM airborne survey located in the northern region of the property.

PNV-3A EM Conductor: 26 line-km SMLTEM ground geophysics survey. This EM conductor is located in the central region of the property. It has an arcuate shape to it which might be reflective of focal point of 2 major litho-structural orientations coming together (NW-SE and NE-SW fabric), which is a structural setting favorable for deposit development.
PNV-4A EM Conductor: 9.2 line-km SMLTEM ground geophysics survey. This EM conductor is located in the NW area of the property and appears to have a NNW orientation similar to the A1 conductor 7km further to the south, which host the alteration and mineralized system.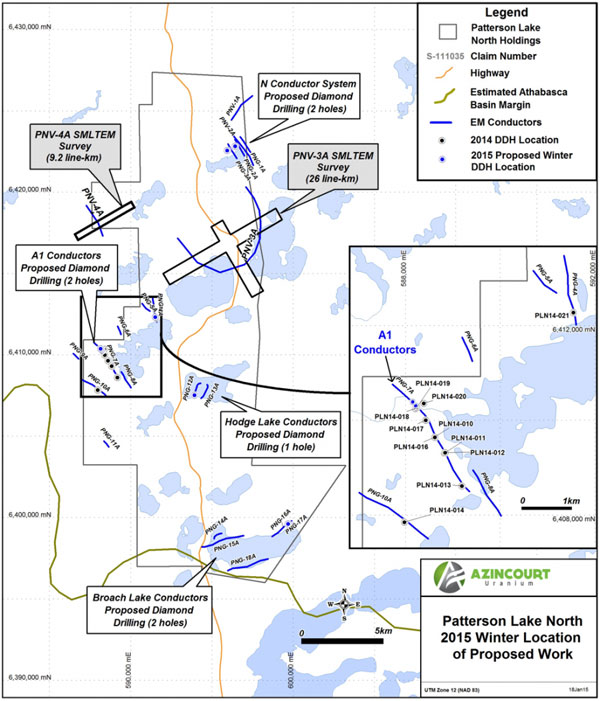 Figure 1 – Patterson Lake North 2015 Winter Location of Proposed Work
Patterson Lake North Property
The Patterson Lake North property (PLN) lies adjacent and to the north of the Patterson Lake South property, owned by Fission Uranium Corp. (TSX:FCU) where the largest undeveloped high-grade deposit in the Athabasca Basin Region was recently announced after just two years of drilling. (See Fission Uranium news release January 9, 2015.) PLN comprises approximately 27,408 ha and is located approximately 30 km immediately south of the UEX/AREVA Anne and Collette uranium deposits near Shea Creek.
Azincourt has a staged, four year option agreement with Fission 3.0 dated April 29, 2013 whereby Azincourt can earn up to a 50% interest in the PLN project through a combination of option payments and exploration work funding. Approximately $4.7 million has been spent on prior exploration of the property by Fission Uranium. Azincourt has completed Year 1 funding of the option and presently holds a 10% interest. Fission 3.0 is the operator and project manager.
Qualified Person
The technical information in this news release has been prepared in accordance with the Canadian regulatory requirements set out in National Instrument 43-101 and reviewed on behalf of the company by Ted O'Connor, P.Geo. President and CEO of Azincourt, a qualified person.
About Azincourt Uranium Inc.
Azincourt is a Canadian based resource company specializing in the strategic acquisition, exploration and development of uranium properties and is headquartered in Vancouver, British Columbia. Azincourt currently holds a 10% interest in the PLN exploration project joint venture with Fission 3.0 in northern Saskatchewan, with an option to earn up to 50% of the project.
ON BEHALF OF THE BOARD OF AZINCOURT URANIUM INC.
"Ted O'Connor"
Ted O'Connor, CEO and President
NEITHER THE TSX VENTURE EXCHANGE NOR ITS REGULATION SERVICES PROVIDER (AS THAT TERM IS DEFINED IN THE POLICIES OF THE TSX VENTURE EXCHANGE) ACCEPTS RESPONSIBILITY FOR THE ADEQUACY OR ACCURACY OF THIS RELEASE.
This press release includes "forward-looking statements", including forecasts, estimates, expectations and objectives for future operations that are subject to a number of assumptions, risks and uncertainties, many of which are beyond the control of Azincourt. Investors are cautioned that any such statements are not guarantees of future performance and that actual results or developments may differ materially from those projected in the forward-looking statements. Such forward-looking information represents management's best judgment based on information currently available. No forward-looking statement can be guaranteed and actual future results may vary materially.
For further information please contact:
Ted O'Connor, President & CEO
Azincourt Uranium Inc.
Tel: 604-638-8063
This email address is being protected from spambots. You need JavaScript enabled to view it.
Mario Vetro
Corporate Development/Investor Relations
Tel: 778-846-9970
This email address is being protected from spambots. You need JavaScript enabled to view it.